Cologne – Cathedral City on the Rhine | Sightseeing Tips
Cologne Sightseeing Tips
Cologne is one of Germany's most attractive cities. The metropolis on the Rhine is full of beautiful sights and is famous for its unique street parties. Along with its carnival and Christopher Street Day parades, the city hosts numerous events that draw visitors of all ages from all over the world.
A trip to Cologne is always worthwhile. The city's colourful offering includes something for everyone. We have put together a collection of tips about what to see and do in Cologne, including everything from relaxing and educational daytrips to the best shopping the city has to offer – experience the diversity of Cologne and enjoy all the city has to offer!
Shopping in Cologne
Cologne is the perfect place to shop till you drop. Its countless specialist stores have everything you could wish for. Along with jewellery, clothes and toys, the city offers a huge range of sporting equipment and sweets. Everything you might need is right here in Cologne's inner city!
The city's main shopping streets, Hohe Straße and Schildergasse, form the heart of its shopping district, and are home to well-known chains and department stores including the Lego Store, H&M, Gucci and Galeria Kaufhof They are surrounded by smaller streets full of independent boutiques and specialist shops that cater to every taste.
Countless bakeries and cafes in the city centre offer lots of opportunities to rest and recuperate. After a busy day of shopping in Cologne, there are plenty of places to grab a tasty baguette, treat yourself to a slice of cake or enjoy real Italian gelato. Central Cologne's many green spaces and fountains give it a cosy charm, and help make an exciting day of shopping a relaxing pleasure.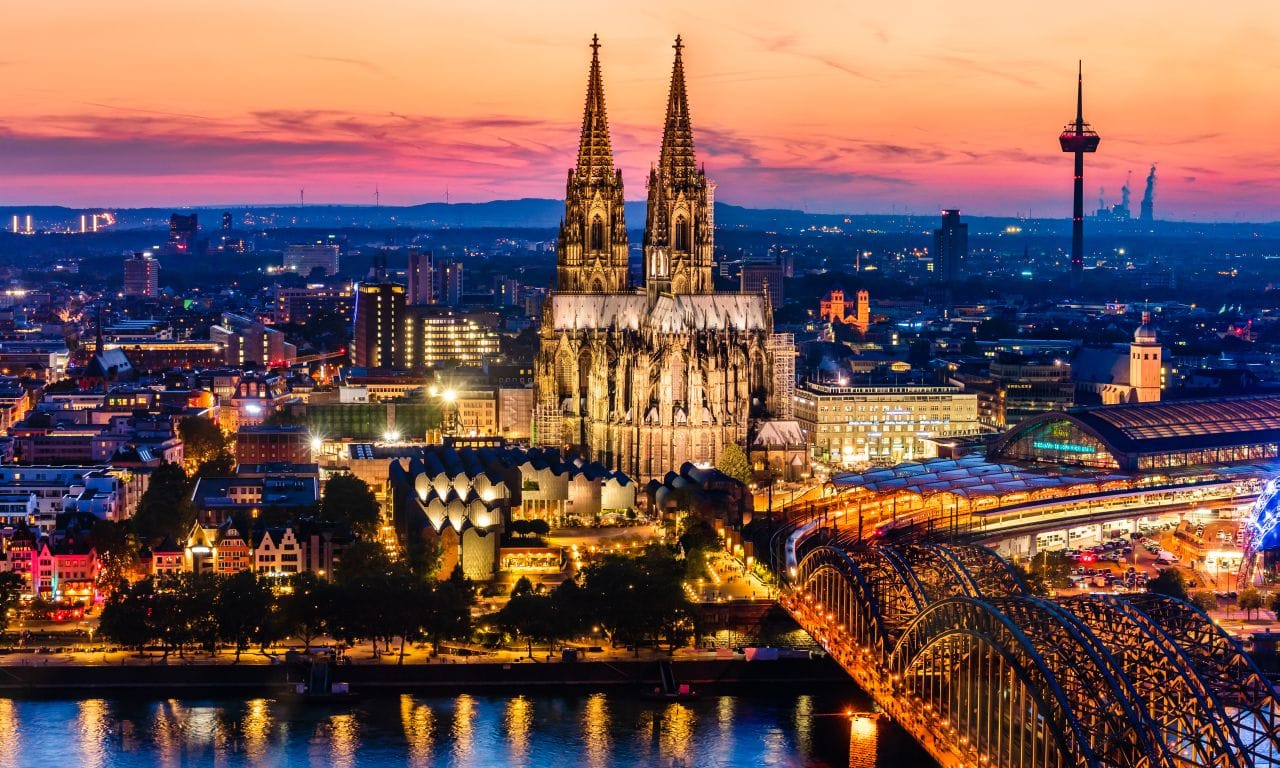 Around Cologne Cathedral
Cologne Cathedral is the heart of the city. It plays an essential role in the life of city, and offers locals and tourists a broad range of events.
Cologne Hauptbahnhof (central station) is in right on the doorstep of the Cathedral, just a short walk from the city centre. The cathedral itself is surrounded by a huge square – a perfect stage for artists of all kinds, including magicians, painters, musicians and human statues, making the area a magnet for visitors.
Of course, there are many ways to explore the city around the Cathedral. While visitors often head straight into the centre, others prefer to relax by the Rhine River. Parks, playgrounds and pavement cafés are all just a short walk from the cathedral or the Rhine.
Rhine Promenade
The beautiful promenade along the Rhine has many faces, and is an absolute must for visitors to Cologne. Along with huge parks and water playgrounds, it the perfect place for a long walk, or to unwind at a café – so there is something for everyone. The banks of the Rhine offer unobstructed views of the mighty river and its many ships, while Cologne's plentiful bridges make it easy to explore the river from every side.
Cologne Zoo
Cologne Zoo is one of the city's most popular attractions. It is located on the west bank of the Rhine, is easy to reach by tram or a cable car over the river, and should be on every itinerary, no matter your age.
The Zoo is home to approximately 750 species of animals, and is open all year. Along with its large outdoor enclosures, it also boasts several animal houses that are open to visitors. While large animals such as elephants, hippos and lions live outdoors, inside you can see birds, monkeys and crocodiles. The zoo's farm gives younger visitors a taste of country life, and a chance to get close to chickens, pigs and goats.
Feeding times are a particular highlight, and let you see various animals in action. Watching the penguins and sea lions catch fish is a real highlight for kids. And the zoo's huge playground is the perfect place for them to stretch their legs, while their parents relax on one of the many picnic benches.
A personal photo takes by the zoo's photographers is a great way to round out a perfect day.
Cologne Cathedral
Construction of Cologne Cathedral began in 1248 and has continued ever since. The building's size and intricacy mean it requires constant maintenance to repair damage and lovingly extend individual sections.
Mass is celebrated regularly at the cathedral and is open to the public. You can explore the breathtaking interior on a professional tour or at your own pace. The cathedral's most important treasure is the golden Shrine of the Three Kings, which is believed to contain the remains of the biblical Three Wise Men. They have been laid to rest here for 850 years.
Visitors can also go up one of the cathedral's towers, either in a small elevator or up a spiral staircase with a total of 533 steps and numerous chambers along the way. As you climb the tower you can also see the cathedral bells, which strike regularly – an unforgettable experience. When you reach the top, a platform on the south tower offers spectacular views of the city from a height of 97 meters.
Chocolate Museum
Cologne's Chocolate Museum is easy to reach by public transport, and is an unmissable adventure for all ages. Along with its own shop, it impresses with diverse exhibits that lead visitors through the chocolate making process, from the origins of the bean to a detailed look at the production process. Along with all that information, the museum also gives you plenty of chances to get involved. A particular high point is the giant chocolate fountain where every visitor help themselves to a waffle dipped in chocolate. A tasty treat for kids – and one that adults will enjoy too!
The museum's location on the Rhine means that, after all that chocolate, you can take a stroll in the fresh air. There are plenty of steps and benches along the promenade where you can stop for a picnic or a tasty coffee.
These insider tips will ensure that you have an unforgettable time in the cathedral city on the Rhine. Cologne has plenty to offer visitors of all ages during a short city break or longer visit – whether you want to experience the city's culture, indulge in great shopping, or simply explore a city full of surprises.