Make a green choice!
Cancel room cleaning now to protect the environment and help disadvantaged children.
We will donate EUR 2 to the Jona Foundation for every cancelled room clean. More information →
(Please note: you must make your selection by 8 pm the previous day)
Energy Surcharge
We ask that you pay a voluntary energy surcharge of EUR 3 per day per room. By agreeing to pay the energy surcharge you help ensure that we can continue to fully offer our usual services at a fair price. Please ask for the energy surcharge to be added to your bill when you depart.
Your boutique hotel in central Berlin
We have put together an A-to-Z full of useful information, and our virtual receptionist Buffo is on hand to answer your questions 24/7 – the chatbot opens automatically at the bottom right of the page.
Make yourself at home
Relax or work in our bar and lounge – you are welcome to use the co-working table.
Free Wi-Fi
There is free high-speed Wi-Fi throughout the building. The network name is "Alexander Plaza". Log in using your last name and room number.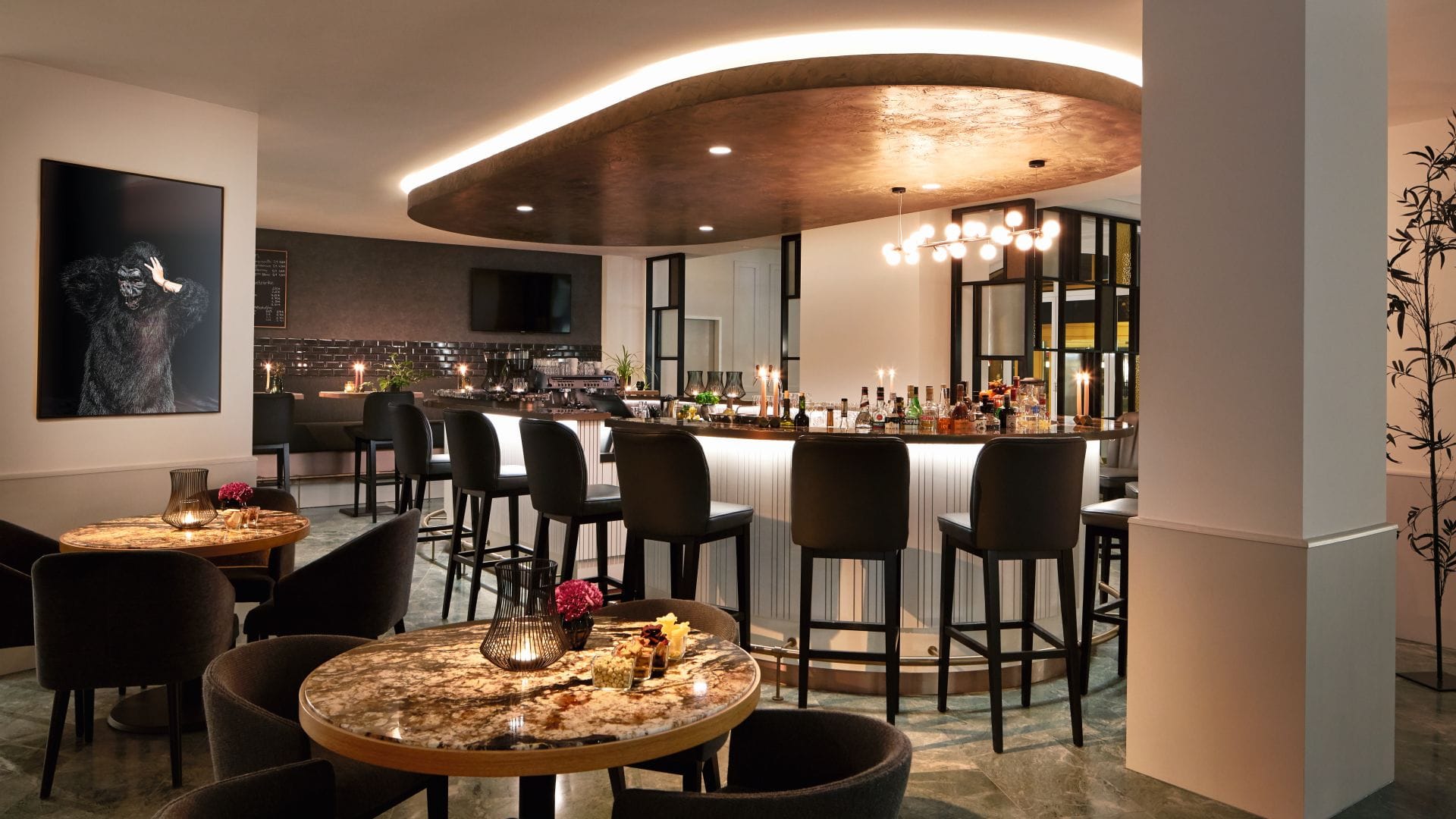 Bar & Lounge
Enjoy one of our creative cocktail creations paired with our exceptional bar snacks in an elegant atmosphere. Or end the day with a local beer. Directly adjacent to Hackescher Markt, our little oasis is hidden on Rosenstraße.
Mon – Sat, 11:30 am – 11 pm
Sun and public holidays, 11:30 am – 4:30 pm
Breakfast buffet
Breakfast is served every morning in our ground floor breakfast room. Please let us know if you would like eggs or specialty coffees.
We use regional, sustainable ingredients wherever possible.
Mon – Fri, 6.30 am – 10.30 am | Sat, Sun and public holidays, 7 am – 11 am
EUR 24 per person per day
Children aged under 12 half price
Sauna & fitness
Our sauna and fitness area is on the lower ground floor. We are happy to switch on the sauna for you (EUR 9 per person). There is no charge for use of the fitness area.
Our A-Z
Arrival and departure
Reserved rooms are available from 3 pm on the day of arrival.
We ask that you leave your room by 11 am on the day of departure.
Baby beds
We are happy to provide a baby bed without charge. Please contact reception at the Classik Hotel Alexander Plaza, tel.: +49 30 240010.
Banks/ATMs
The closest ATM is located at Hackescher Markt S-Bahn (local rail) station.
Bike rental
E-bikes are available to rent. Please contact reception at the Classik Hotel Alexander Plaza, tel.: +49 30 240010.
Car rental
Europcar Berlin Alexanderplatz, Alexanderplatz 8, 10178 Berlin, Germany, tel.: +49 30 2407900
SIXT Berlin Alexanderplatz, Grunerstr. 5-7, 10178 Berlin, Germany, tel.: +49 89 66060060
Cash and valuables
You can store valuables safely in your room safe.
Doctor
The nearest emergency room is Alexianer St. Hedwig Krankenhaus, Große Hamburger Str. 5-11, 10115 Berlin, Germany.
Emergency stairs/exits
Please refer to the site map on the inside of your room's door. You can exit the hotel from every floor via the marked stairs.
The elevator should not be used under any circumstances. Please take care to study the EMERGENCY ESCAPE ROUTE INFORMATON on your room's door. The emergency stairs should only be used in case of an evacuation. Emergency exit routes are marked with green backlit pictograms, in accordance with international standards.
Heating
You can set the temperature in your room individually.
Internet
You can access the internet throughout the hotel via high-speed Wi-Fi.
To connect to our Wi-Fi network "Alexander Plaza" enter your last name and room number. If you have trouble logging in, please contact us for assistance.
Mains electricity
220 volt AC
Parking
You can use the Dom Aquarée public car park, located at Spandauer Str. 3, 24 hours a day. Fees apply. Subject to availability, you can also use a space in our underground car park for EUR 23,50/night. We are unable to reserve spaces.
Pets
Pets are welcome at the hotel. The extra room cleaning fee is EUR 25 per night/pet.
Pharmacy
Apotheke Hackesches Quartier, Henriette-Herz-Platz 3, 10178 Berlin, Germany
The pharmacy on the first floor of Berlin Central Station (Berlin Hauptbahnhof) is open daily.
Public transport
Find routes, buy tickets and get updates on disruptions to train, bus and tram services at www.bvg.de.
Reception
Please feel free to contact us on tel.: +49 30 240010, 24 hours a day.
Room keys
Please deposit your key card in the box by the entrance when you depart.
Smoking
Smoking is not allowed anywhere in the hotel or courtyard. Please enjoy your cigarette in front of the hotel.
Taxi
You can order a taxi on tel.: +49 30 202020.
Telephone
To make calls to an outside line, press '0' followed by the required number.
Classik Hotel Alexander Plaza I Rosenstraße 1 I 10178 Berlin I +49 30 240010 I reception.bap@classik-hotel-collection.com