Make a green choice!
Cancel room cleaning now to protect the environment and help disadvantaged children.
We will donate EUR 2 to the Jona Foundation for every cancelled room clean. More information →
Our rooms are cleaned every second night.
(Please note: you must make your selection by 8 pm the previous day)
Energy Surcharge
We ask that you pay a voluntary energy surcharge of EUR 3 per day per room. By agreeing to pay the energy surcharge you help ensure that we can continue to fully offer our usual services at a fair price. Please ask for the energy surcharge to be added to your bill when you depart.
Your charming hotel in the idyllic countryside near Magdeburg
We have put together an A-to-Z full of useful information, and our virtual receptionist Buffo is on hand to answer your questions 24/7 – the chatbot opens automatically at the bottom right of the page.
Make yourself at home
Relax or work in our bar and lounge – you are welcome to use the co-working table.
Enjoy an exciting game at our pool table. Balls are available to rent from reception for EUR 10 per hour.
Free Wi-Fi
There is free high-speed Wi-Fi throughout the building. The network name is "Classik Hotel Magdeburg". Log in using your last name and room number.
Breakfast buffet
Breakfast is served every morning in our ground floor breakfast room.
We choose regional, sustainable ingredients wherever possible.
Mon – Fri, 6 am – 10 am | Sun & public holidays, 6 am -11 am
EUR 16 per person per day
Children aged under 12 half price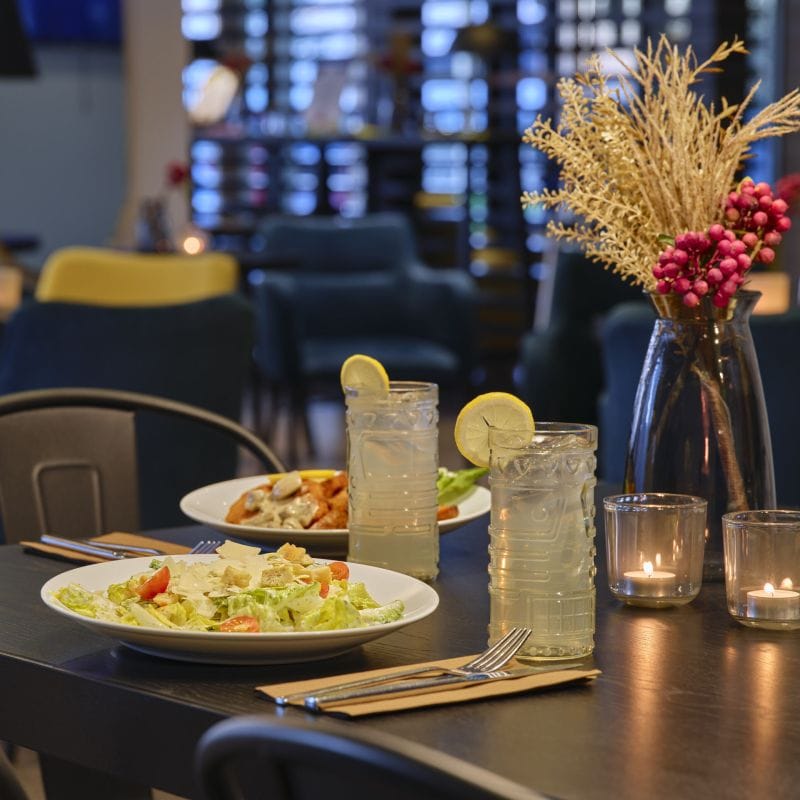 Our restaurant
Our restaurant is on the ground floor. Please contact the hotel for opening hours.
Take a look at our menu:
Finnish sauna
Our sauna and fitness area are on the lower ground floor. We are happy to switch on the sauna for you (EUR 9 per person).
Our A-Z
Alarm call
To request an alarm call contact reception or call the switchboard.
Allergies
We are happy to provide suitable bedclothes for allergy sufferers on request.
Baby beds
We are happy to provide a baby bed without charge. Please contact reception. Beds are provided on request and are subject to availability.
Banks/ATMs
The nearest Stadtsparkasse is in the Bördepark mall. The closest ATM is located at
Esso Tankstelle (filling station), Leipziger Chaussee 101.
Bar
Our hotel bar is in the restaurant and is open daily until 10 pm. We are happy to take orders on ext. 510.
Breakfast
Our restaurant serves a generous breakfast buffet.
Mon – Sat, 6 am – 10 am
Sun and public holidays, 7 am – 11 am
We are happy to deliver breakfast to your room during our breakfast times for a fee.
Please contact reception on the previous day to arrange a delivery.
Car rental
rent 66 GmbH, Osterweddinger Str. 5, 39116 Magdeburg, Germany, tel.: +49 391 63577134
Cash and valuables
Please don't leave money or valuables in your room. We can store valuables with a value of up to EUR 1500 in our hotel safe. Please contact reception.
City centre
You can reach the city centre in about 15 minutes by tram line 9 from the stop Lindenhof/Flugplatz, which is 1.7 km from the hotel. Timetables are available from reception.
City maps
Maps of Magdeburg are available from reception.
Conferences and seminars
We have a suite of seven bright meeting rooms with state-of-the-art technology and a capacity of up to 70 people. Our banqueting staff are happy to discuss your needs.
Credit cards
We accept American Express, Diners Club, Visa and Mastercard
Departure
Reserved rooms are available from 3 pm on the day of arrival.
Room reservations are guaranteed until 6 pm on the day of arrival. If you are planning to arrive later, please let us know. We ask that you leave your room by 11 am on the day of departure.
Please let us know in advance if you plan to depart later.
Directions
Directions to the hotel are available here →.
Doctor
If you need medical assistance, please contact reception.
Dressing gowns
Dressing gowns are available from reception for a rental fee of EUR 3 and deposit of EUR 20.
E-mail address
You can contact us using the following e-mail address:
reception.mch@classik-hotel-collection.com
Emergency stairs/exits
Please refer to the site map on the inside of your room's door. You can exit the hotel from every floor via the marked stairs.
The elevator should not be used under any circumstances. Please take care to study the EMERGENCY ESCAPE ROUTE INFORMATON on your room's door. Emergency exit routes are marked with green backlit pictograms, in accordance with international standards.
The emergency stairs should only be used in case of an evacuation.
Express check-out
To avoid waiting, you can use our express check-out service from the evening before your departure.
Family celebrations and banquets
The perfect location for weddings, anniversaries and the other family celebrations with up to 50 guests. Our banqueting staff will be happy to help you plan your celebration. (Available Mon – Fri, 8 am – 3 pm).
Fire hazards
PLEASE CALL RECEPTION IMMEDIATELY!
Flowers
Our reception staff will be happy to order flowers for you.
Hairdresser
There is a hairdresser in the Bördepark mall.
Heating
You can set the temperature in your room individually.
Housekeeping
Our housekeepers will be happy to fulfil requests for pillows, blankets, children's' beds etc.
Please contact reception, who will pass on your request. Contact reception on ext. 504.
Internet
Free internet access is available throughout the hotel via Wi-Fi.
Access details are available from reception, or you can log in using your name and room number (for rooms on the ground floor, please add a "4" before the room number -> 405, 410 etc.).
All guests can use the business centre in the lobby without charge.
Lost property
Have you lost or found something? Please contact our reception staff.
Luggage
Luggage carts are available from reception.
Luggage room
If you want to leave your luggage, please speak to the reception staff.
Mains electricity
220 volt AC
Parking
Parking spaces are available around the hotel for a fee of EUR 6 per car/night. The underground car park costs EUR 9 per car/night, subject to availability, and is open 24 hours a day.
Personal care products
If you have forgotten your toothbrush, toothpaste or razor, we are happy to provide replacements. Other personal care items are also available, in case you don't find them in your room.
Pets
Pets are welcome at the hotel. The extra cleaning fee per room is EUR 20 per night/pet excl. food.
Photocopying service
Please see the notice at reception for prices.
Post
You can leave post at reception. Stamps are also available from reception.
Reception
Our reception is staffed 24 hours a day. Please feel free to speak to our reception staff, or call us on ext. 504.
Restaurant and bistro
Enjoy a light meal in our 56-seat restaurant from 6 pm – 10 pm daily. Our beer garden is a great place to relax in the summer months. Please contact our service staff on ext. 510.
Room keys
Please don't forget to return your keys when you check out – thank you!
Room service
Please contact our service staff on ext. 510.
Sauna
Please let us know about 30 minutes before you plan to use the sauna, by calling ext. 504, so that we can heat it to the required temperature.
Our sauna is available until 11 pm daily for EUR 9 per person. There are plenty of towels in the sauna area.
Sewing set
Sewing sets are available from reception on request.
Shoe polisher
There is a shoe polisher on the lower ground floor.
Smoking
Smoking is not allowed anywhere in the hotel. Please enjoy your cigarette in front of the hotel.
Taxi
You can order a taxi on +49 391 737373. Our reception staff will be happy to order a taxi for you. If you require a large taxi, please give us plenty of notice because there are not many available in Magdeburg.
Telephone
To make calls to an outside line, press '0' followed by the required number. Calls cost EUR 0.20. Internal calls are free.
Train times
Our reception staff will be happy to help you find connections.
Classik Hotel Magdeburg | Leipziger Chaussee 141 | 39120 Magdeburg | Germany