Details of the art exhibited at the Alexander Plaza
Our Managing Director Simone Graebner is deeply connected with the Berlin art scene and, along with the hotel business, her greatest passion is they city's galleries and exhibitions.
Any passion is better when you share it, so we are pleased to present a selection of works at the hotel.
Our current featured artists are presented below:
Richard Mosse, Airport Tempelhof, Berlin, Germany 2018, part of the series The Castle, Heat Maps
Richard Mosse's Heat Maps painstakingly document the camps and reception centres along the refugee routes from the Middle East to the European Union, through Turkey and other countries. The Heat Maps are the product of numerous research and preparatory trips and capture constantly shifting political attitudes to immigration in Europe. Each film was shot from a distance, from a raised viewpoint, offering insights into spaces that are otherwise hidden, often illegal, and usually inaccessible to photographers.
The Heat Maps are recorded using a thermal image camera. These specialist devices were developed for border protection and controls, and to identify conflicts from a distance.
Richard Mosse, Heliconia Rostrata, digital c-print mounted on Dibond, 2019, part of the Ultra series
The images for Mosse's latest series, Ultra, were taken at night in the Peruvian rainforest using ultraviolet light. Ultra's detailed studies of plant and insect life show the precious, irreplaceable beauty of the rainforest ecosystem.
In the series, Mosse borrows techniques from scientific photography to capture ultraviolet fluorescence. The images were shot with a 150 megapixel digital camera, resulting in amazing detail and clarity.
https://www.carliergebauer.com/artists/richard_mosse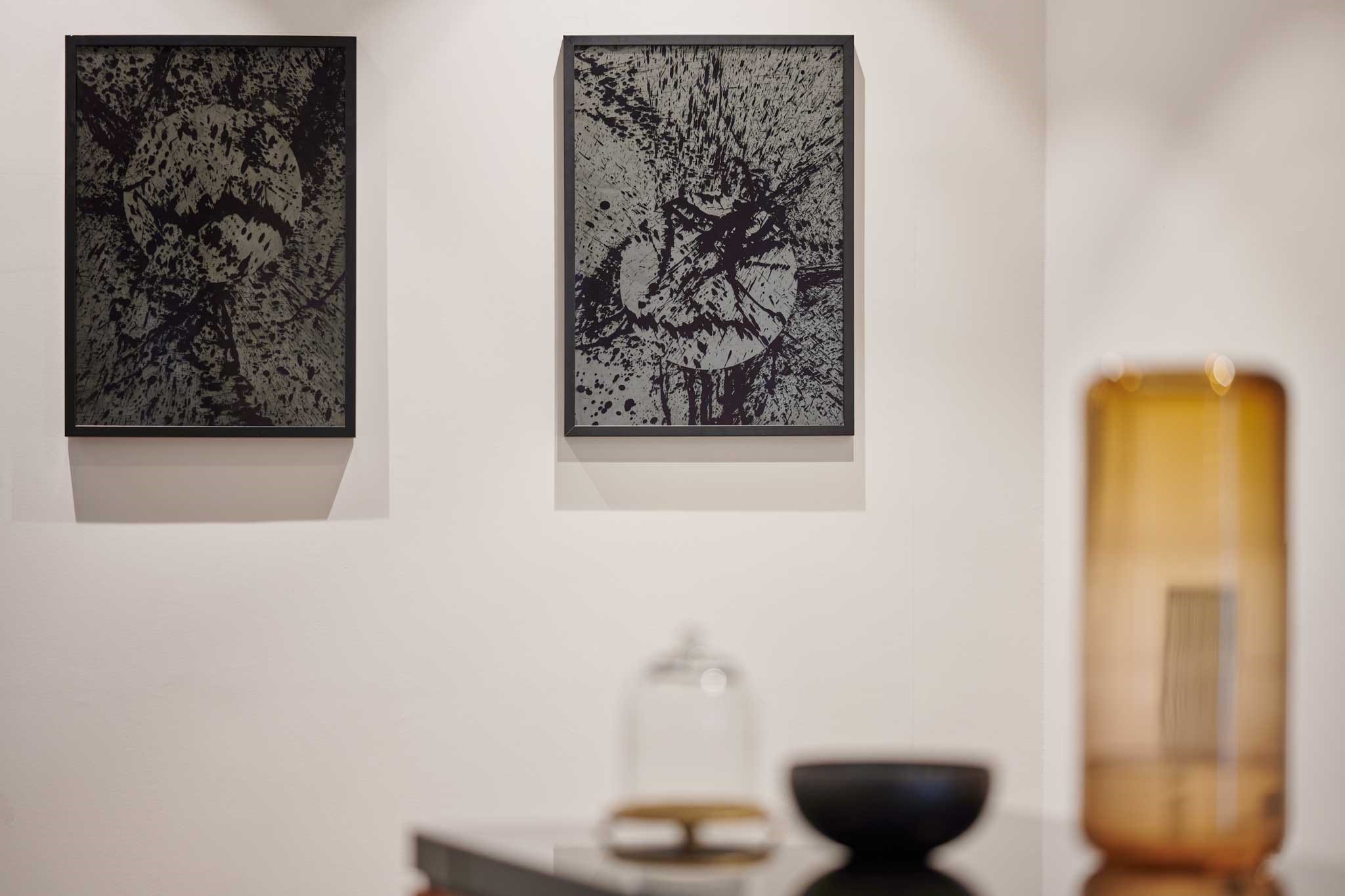 Next 1 und 2, acrylic on glass, Markus Keibel, 2014
The works Next 1 and 2 explore the future, the desirable, utopia and what our world can and should look like. They challenge us to find form in emergence, shaping the process through our participation. Both pieces are painted on glass, with paint built up on several layered panes. That gives them real depth with hints of shadow. The layered pieces build on Pollock's gestural approach to painting, with geometric circles in three dimensions offering a window on an individual, visionary perspective.
Adam Pendleton, A Woman on the Train Asks Angela Davis for an Autograph, 2016
Adam Pendleton was born in Richmond, Virginia in 1984. He is a conceptual artist whose work includes drawings, photographs, collage, video and performance.
His focus is on processing language, both visually and verbally.
He interprets history by recontextualising events with appropriated images.
"A future dynamic where new historical narratives and meanings can exist"
Katharina Sieverding, 30 April 1993, Pressekonferenz in den Kunstwerken Berlin (Press Conference at the Kunst-Werke Berlin), 2016
The artist's piece 'Deutschland wird deutscher' (Germany is getting more German) was shown on 500 large billboards around Berlin shortly after the country's reunification.
Its genesis was an invitation from Rudi Fuchs to participate in an exhibition project for KulturRegion Stuttgart. Sieverding was asked to create a piece for public spaces. She took the headline 'Deutschland wird deutscher' from an article in ZEIT and combined it with a photographic image.
All but one of the 18 towns around Stuttgart involved in the project declined to display Sieverdings work.
The piece was inspired by the far right and nationalistic movements of the time.